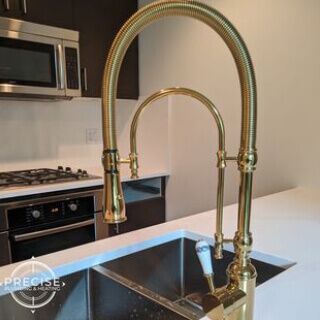 We have a slogan "Custom Plumbing Solutions". We coined this term because we are team of creative problem solvers with a passion to turn our clients dreams to reality. We know the plumbing code well and have the experience to handle luxury projects. Our business has grown from our clients requests to service their multiple homes and buildings, as well as referrals of friends looking for honest, reliable, highly skilled and efficient tradesmen to take on their high end project. Our work speaks for itself and our reviews match our customer satisfaction.
We get asked this a lot these days. Yes we do ground work and new builds too. We have built our business on following our clients around. Stalking jokes aside. Once we finish a job, our clients keep us around for their other projects and refer us to their network. Which is how we grew to add in ground work and new builds. The right clients find us and we take care of the rest. We know our plumbing code so inspectors love us too. It's not about our variety of work that gets us around, it's about our Precise quality of work that brings us to these new heights.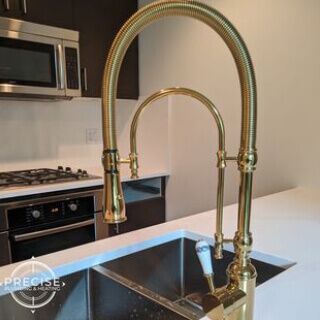 Bathroom custom renovations
With years of experience in bathroom remodelling, our Sunshine Coast, Vancouver and Bowen Island plumbers are your best choice to realize that bathroom dream you've always had. We will customize any design based on your dreams. You want to move the toilet, change the tub to a shower, add a steam generator, add multipole shower heads? We can do it. Our outstanding customer service, and incredible craftsmanship are what make us your best choice for all your bathroom renovations needs. You know, a bathroom should be a place where you can relax and refresh. You should never ever settle for anything less. So, tell us what your ideas are! How would you like the bathroom to turn out? Let us know and we will turn those ideas into a reality. Whether it's just a small adjustment that's needed, or a major bathroom overhaul, or from transitional to contemporary designs, we have the skills and experience to transform your bathroom from its current state into a space that meets your vision and needs.
Kitchen custom renovations
We understand perfectly well that the kitchen is the heart of your home, and as such, we not only make it inviting, but we will also customize it to meet your specific lifestyle needs. And given all the years that we've been doing this, we do believe that we've mastered incredible craftsmanship that would enable us to help you realize your kitchen dreams. Whether it is a contemporary, modern, mid-century, industrial, or Scandinavian design you are looking for, we got you covered. Our Sunshine Coast, Vancouver and Bowen Island plumbing experts understand exactly what to do to turn your ideas into reality.
Heating
We are certified for natural gas and propane install. We can do propane conversions for your gas range stove, BBQ, and outdoor firepit. If you are looking to create a back yard oasis, we can even run gas lines to your outdoor heaters. No matter the kind of gas install that you are looking for, know that we have everything needed to fulfil your dreams.
We get it right the first time and we only utilize the best and top-quality parts, which we install with precision. We enjoy seeing dreams turn to reality. Get in touch today, book a call, and we will give you a free estimate.
Derek and his team at Precise Plumbing are great. We have used many plumbing services at our apartment building over the years, some good some terrible. Derek has been very professional and fast at the work he has done for us. Fair pricing, on time and communicates well. He has looked after a faulty boiler, a new boiler installation and has installed a walk in shower base, glass shower door and toilet in a bathroom we were renovating. Highly recommend!
Heather Morgan